Nikes send six wrestlers to state tournament
Feb 12, 2023

Updated

23 hrs ago
1 of 4

Notre Dame-West Burlington's CJ Walrath pinned Assumption's Chase Diaz in the district finals Saturday.
Notre Dame-West Burlington's Isaiah Fenton won the district title at 152 pounds pounds Saturday at Washington.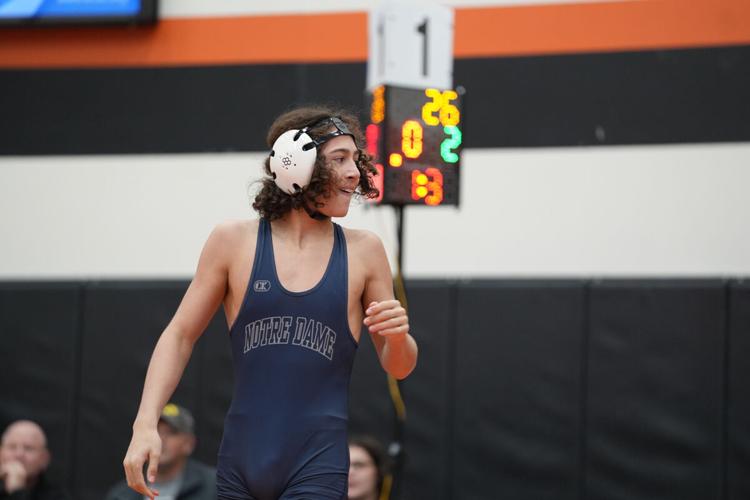 WASHINGTON — CJ Walrath joined some elite company on Saturday afternoon.
He pinned Davenport Assumption's Chase Diaz in 1 minute, 33 seconds in the 182-pound championship in a Class 2A district wrestling tournament at Washington High School.
With the win, the Notre Dame High School senior became just the 28th wrestler in state history to reach 200 career wins.
More importantly to Walrath, he punched his ticket to the state tournament Feb. 15-18 at Wells Fargo Arena in Des Moines with a chance to defend his state championship.
While his family, friends and teammates celebrated the milestone win, Walrath hardly batted an eye.
For the University of Northern Iowa recruit, it is simply an end to a means, another step along the way to what he hopes will be another state championship and national championships down the road.
Walrath has his sights set squarely on the big prize, and he won't be deterred by any numbers.
"It felt good getting the 200th win. But then again it really doesn't matter. it's just a number. Now I'm just focusing on going to Des Moines, getting healthy and getting my weight down and getting ready for Wednesday," Walrath said. "I just wanted to see the kind of stuff I needed to work on, try a little bit of my offense while I was out there. I picked up on a few things I need to work on. It was just seeing the stuff I need to work on before state."
Walrath helped Notre Dame-West Burlington finish second in the team race behind Davenport Assumption with 150 1/2 points.
The Nikes qualified six wrestlers — Walrath, Carter West (106), Kael Cook (113), CJ Davis (120), Kaiden Dietzenbach (126) and Isaiah Fenton (152) — for the state tournament.
Keokuk senior Tate O'Shea earned his fourth trip to state by winning at 138.
For Walrath, the waiting was the hardest part. Walrath had just one match the entire day, spending 5 1/2 hours sitting, watching, warming up and waiting.
Once on the mat, he took care of business in prompt fashion.
"I watched a lot of matches, so I'm never bored," Walrath said. "I looked over at the coaches and they said, 'Finish it.'"
"I kind of got used to it from the beginning of the season. It really wasn't too terribly tough wrestling wise. I just have to stay focused and take every match seriously. Anything can happen."
Walrath's training partner, Fenton, also wasted no time in claiming a championship. Fenton, top-ranked at 152, needed just seven seconds to pin his foe in the semifinals.
He then toyed with Jax Mosley of Centerville on his way to a 20-5 technical fall in the finals.
"I've been taking a lot into my diet. I've taken my diet extremely personal," Fenton said. "I have a great practice partner and I did a lot of traveling over the summer to get different looks, different styles, different training, different coaches. I was in Virginia, Pennsylvania, Florida, just going everywhere to get looks at new styles."
Perhaps the most impressive — and important — win for the Nikes came at 126, where Dietzenbach pinned top-ranked Derrick Bass of Assumption in 5:18 in the finals.
"He was No. 1 in the state rankings, and I was No. 2. Hopefully I can go into state as the No. 1 seed now and that will be a lot better for me. The path to the state championship is obviously the end goal and this was a big step toward that," Dietzenbach said. "I just knew I had to do something.
"I let up that takedown at the beginning, which wasn't good. I knew I had to battle back, and it was going to be hard."
West, after a 45-second pin in the semifinals, gutted out a 1-0 win over fifth-ranked Emmitt Newton of Davis County.
Cook and Davis both bounced back after tough losses in the finals to win matches for true second place and a spot at state.
O'Shea, after falling short at state the last three years, is on a mission to bring home a medal in his final trip to Des Moines.
O'Shea pinned all three of his opponents, including Zach Westercamp of Fairfield in the finals.
"It's good to be back. I'm going to get what I actually want. I want a medal. That's the goal," O'Shea said. "I have a big chip on my shoulder.
"I am very motivated ever since state last year. Everything I've done since then has been to get back to the state tournament this year."