Notre Dame powers past New London
Feb 9, 2023

Updated

10 hrs ago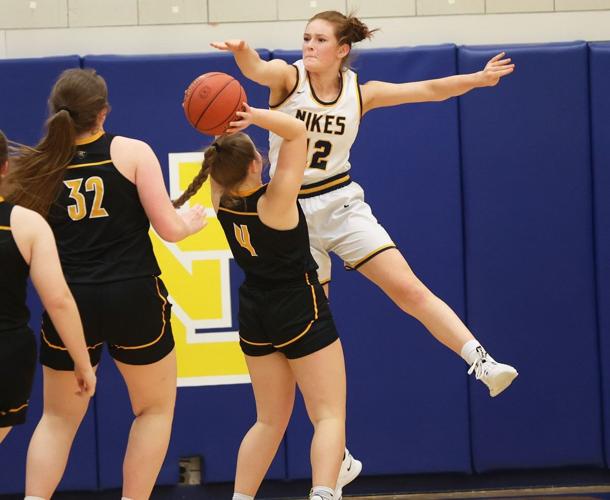 Notre Dame's Abby Korschgen leaps to block the shot of New London's Emmy Nye on Thursday night at Father Minett Gymnasium.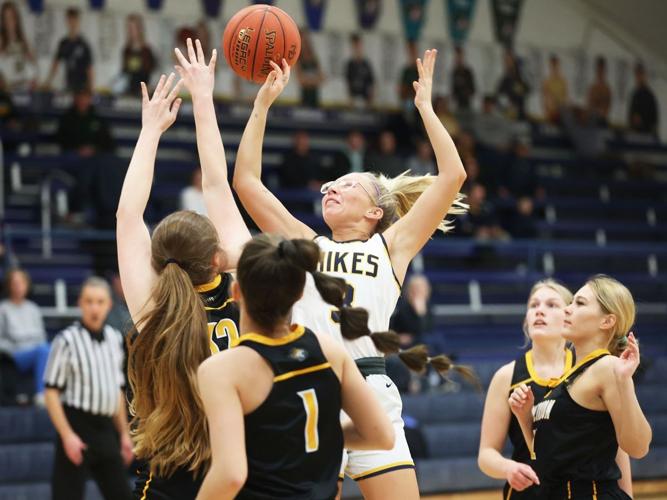 Notre Dame senior Maddy Mosena shoots over New London's Mylee Miller on Thursday at Father Minett Gymnasium.
One final memory.
That's what Thursday's Class 1A regional first-round game game against New London boiled down to for the Notre Dame High School girls' basketball team.
And the Nikes' three seniors created one final memory to last a lifetime.
Gabby Deery, Abby Korschgen and Maddy Mosena combined to score 32 points as the Nikes cruised to 68-30 victory over the Tigers in their final appearances in a Notre Dame uniform at Father Minett Gymnasium.
Notre Dame (17-6) advances to a regional quarterfinal to face WACO (18-4) at 7 p.m. Tuesday at Wayland.
New London ends the season with an 0-22 record.
For Notre Dame's three seniors, it was one last stroll down memory lane on a court where they helped the Nikes go 41-4 during their four years.
"I'm going to miss it a ton. I have a lot of memories on this court," said Mosena, who scored 14 points. "It was very emotional. I've played here my whole life. I love playing on this court. I'm glad I got to do it one last time with my best friends."
"It was definitely emotional. We've had some great memories through the years," said Korschgen, who scored seven points, including a rare 3-pointer. "Some of my best memories in high school have been on this court. I have so many great memories of the coaches that I love so much. Some of the coaches aren't with us any more.
"That makes it even more emotional and even more special to be our last game here."
"It was very emotional being the last game ever playing here at Notre Dame. I have so many great memories the last four years playing volleyball and basketball here," said Deery, who scored 11 points.
"I have been so blessed to be able to be a part of this experience."
For Notre Dame head coach Corey Stephens, it was one last chance to honor the seniors, who all came to the bench for the final time early in the fourth quarter.
"They have really kept this program together," Stephens said. "Abby has been a big voice on the team this year and has done a great job working with our younger girls.
"Gabby is just an all-around great athlete. She is one of those kids you like to have on the team.
"Maddy is a great girl who can get a steal, get out in transition and hit a big shot."
Notre Dame led 22-3 after the first quarter and 46-10 at halftime.
Notre Dame now turns its attention to WACO, a team it defeated, 51-45, last Saturday in the SEI Superconference Shootout.
"We're not finished yet. We're going to keep pushing game after game," Deery said.
"It's a game we are looking forward to," Stephens said.
"We didn't have a great game last time."