Frakes excited to lead Burlington Notre Dame into the future
Katie Frakes is shown at Notre Dame schools Thursday, Feb. 3 in Burlington. Frakes has been named as the next PreK-12th grade principal at Burlington Notre Dame. [John Gaines Photography]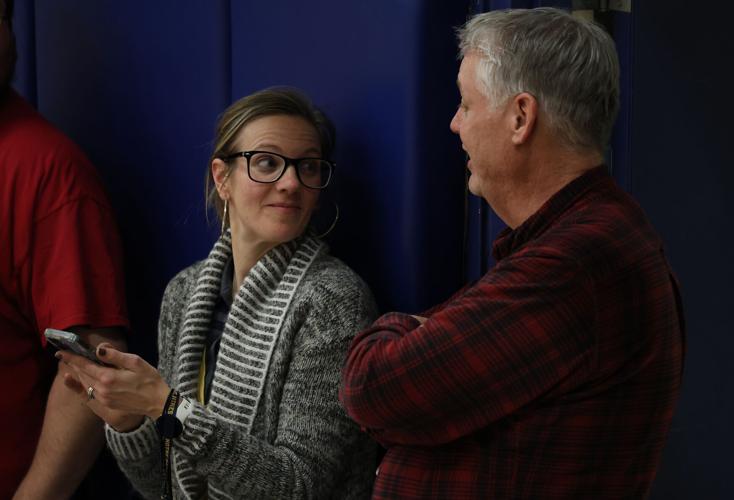 Katie Frakes talks with Notre Dame high school principal Bill Maupin during the schools game against Holy Trinity on Jan. 24 in Burlington. Frakes has been named as the next PreK-12th grade principal at Burlington Notre Dame.[John Gaines Photography]
Katie Frakes had barely settled into her new office when it was announced she would be taking over as the new principal of Burlington Notre Dame late last month.
Frakes joined Notre Dame at the beginning of the school year to serve as assistant principal, overseeing the elementary school.
But on Jan. 24, Notre Dame's Board of Education announced Frakes would be taking over as the principal of the entire school, Pre-K-12th grade, starting in July.
"I'm more excited than anything," Frakes said of being named Notre Dame's next principal. "It's always exciting to start a new adventure."
Current principal Bill Maupin, who's led Notre Dame the past nine years, recently announced he is stepping down at the end of the year but will be back at the Catholic school next school year to teach history.
"Mrs. Frakes has proven to be an integral part of our school leadership team," Notre Dame's Board of Education said in their statement announcing Frakes' promotion.
"She has been a strong advocate for our students, staff, and faculty working tirelessly to ensure they have the best possible experience at Burlington Notre Dame.
"As principal, Mrs. Frakes will continue to lead our school with the same passion and dedication that she has shown throughout her time at Notre Dame and throughout her time at Notre Dame and throughout her career.
"We are confident that Mrs. Frakes will continue to make a positive impact on our school and community."
And despite the relatively short amount of time at the school, Frakes can barely contain her excitement as she prepares to take over a school with approximately 450 students and nearly 60 staffers this summer.
Born and raised just south of Chicago in Bradley, Illinois, Frakes is the oldest of three, with two older brothers. Her mother was a homemaker and her father a factory worker.
Frakes attended public schools growing up, but says her family's faith has always played a major role throughout her life.
"Both sides of my family were Catholic," she said. "We were a strong Catholic family. There just wasn't a viable Catholic school option in my area (growing up)...But I believe (Catholicism) is the truth and the religion that was given to us from Jesus...And I like the tradition of it all."
The majority of Frakes' adult life has revolved around education.
She holds a bachelor's degree in Elementary Education from Western Illinois University, and three master's degrees, including one in Reading Specialist and one in English as a second language, both from Olivet Nazarene University, and her last master's degree in Educational Leadership came from Western Illinois.
She met her husband, Randy, while the two were in college at Western Illinois. The two have been married 18 years now, and Randy has worked as a principal for a Catholic school principal for the past 10 years, and currently serves as the principal of Immaculate Conception School in Monmouth, Illinois, where their family currently resides.
Frakes is also the mother to two teenage daughters: Lexi, 12, and JoAnna, 14.
She began her career in 2005, getting her start as a junior high English teacher in Beardstown, Illinois.
Throughout her career in education, Frakes has worked for numerous public and private schools in Illinois, and held various education positions, including as a 4th grade teacher, reading specialist, preschool teacher, 5th grade teacher, resource teacher (teaching English as a Second Language, working as a reading specialist, and as a liaison with the school psychologist), a special education evaluations specialists, and, most recently in 2021-22, as principal of Costa Catholic Academy in Galesburg.
Balancing Family & Career
And Frakes says she has been fortunate, in that she has been able to find just the right balance in her schooling, career and family life that has allowed her to get where she is today.
"I feel like I waited a good amount of time to really use my skills," she said. "I went back and got my master's degree before my kids were in junior high, because I knew once they were in junior high, life would get busy.
"And then I waited to be a principal until my two kids were self-sufficient enough that they could get themselves ready in the morning and they could pack their own lunch.
"The biggest issue is that time away from home," she added. "But I don't really feel that 'mommy guilt,' because they're with their dad. So, there is the time commitment (of the job that needs to be dealt with), but I'm ready to give that time (now), because my children are older."
With their daughters approaching their high school years, Frakes says she and her husband had been looking for a Catholic high school to eventually send their daughters, particularly one able to provide smaller class sizes, and Notre Dame was one of those recommended.
"We know some people from Illinois that came over (to Iowa) and raved about Notre Dame," Frakes said. "And we fell in love with this school."
Frakes explained that, as they were exploring Notre Dame as a high school option, Maupin, who knew that Frakes was an elementary school principal, told her about the elementary principal opening and encouraged her to interview for the position.
And it worked. Frakes got the job and was announced as the new assistant principal in June 2022.
These days, Frakes' daily routine consists of their daily prayer circle and announcements, reciting the "Pledge of Allegiance," tackling whatever daily tasks that land on her desk, spending time in the classrooms to see how her staff are handling their teaching activities, attending meetings, overseeing the day-to-day operations and future planning, reviewing student data, dealing with school personnel, attending afterschool activities, and disciplining students, as principals often do.
"I deal with behavioral problems if students are having problems meeting our core expectations, which are 'Be Responsible,' 'Be Respectful,' ' Be Faithful,' and 'Be Safe,'" she said.
"If they aren't able to meet one of those expectations, then usually they came (to my office) and we talk about what it is that we can do to correct our behavior for next time."
Students are a joy
So far during her tenure at Notre Dame, Frakes says she has taken great joy from her interactions with her students.
"The little kids are a lot of fun," she said. "We have the preschool here, too. So, a lot of the time, if we have a kid having a bad day, then I'm usually the one that goes in (to help them feel better)."
When Maupin announced in September that he would be stepping down as principal at the end of the school year, Frakes told the board she was interested in taking over as principal, with one stipulation: she wants to remain in the elementary school office.
At teacher at heart
"I'm an elementary teacher at heart," she said. "I love the instruction, I love the excitement. Elementary teachers are a different breed. We're all about the themes. Not that high school isn't about engagement, but seeing the spark of learning something new in the early kids (is something special)."
Frakes says she typically spends most of her workday outside of her office, making a point to spend time spread throughout the school dealing with the tasks at hand as need be.
Despite the new responsibilities coming her way with her new role this summer, Frakes thinks she'll be ready for the change.
"I'm feel confident, and I'm going to have help," she said. "There will be a (new) assistant principal...We currently are looking for an assistant principal that will be in the high school and doing the day-to-day operations."
Frakes says she doesn't expect to enact any drastic changes at Notre Dame next year after she takes over. Instead, Frakes says she plans on spending her first year in charge assessing the needs of the school before pursuing any new programs or initiatives.
But that's not to say Frakes and the rest of the staff at Notre Dame aren't keeping busy.
Frakes says she plays a very hands-on role when it comes to addressing issues with students in the classroom.
"I generally know who are struggling students are and try to go in and assist the teacher as we're helping students," she said.
"I have a strong background in instruction...I use a lot of my past experiences in helping those students. We're a small school. There's not a lot of extra support, so I try to get (into the classrooms) and provide that extra support when I came."
Challenges ahead
Frakes is also aware of the potential challenges that lay ahead with ongoing teacher shortages seen throughout the state (as well as the rest of the country) these past few years.
Currently, Notre Dame does have some long-term substitute teachers teaching courses that have not been filled by certified staff, but Frakes says the school has started to advertise to help find candidates for the school's open positions.
Frakes believes the key components that have led to teacher shortages is a combination of the prevalence of work-from-home positions now available and open positions in a wide range of industries also experiencing worker shortages.
But Frakes has her own ideas on how to attract and retain staff.
"I'm a kid of the late 80's and 90's of schooling," she said. "When I was growing up, your average teacher had been in the profession 20 years. If you had a new teacher, that was like an anomaly. Whereas now, you mostly have all new teachers.
"I think working on your climate and culture in your school (is important) and letting teachers know how much you appreciate them," she added. "I try to tell my teachers that is why I'm in their rooms a lot, to support them.
"And if they have a student that is chronically having issues, of course I want to be in there to support and help the teacher deal with that problem, and not just leave it on the teacher and say 'Well that's your problem, I'm in my office, drinking my cup of coffee.' And I think teachers need that appreciation. They just need affirmations that they're doing a great job.
"And I'm hoping that changes our climate and culture and we're able to retain staff, because I totally believe in (growing staff within). So, if I have a first-year teacher, I'm hoping they stay five or ten years...They may be a first year teacher now and going through their trial-and-error period, but every year is an experience, and if we can keep supporting and provide professional development in the areas that they need to improve, than that's what we're definitely looking for."
Enrollment expected to increase
Notre Dame is also anticipating enrollment to increase in the coming years due to the state's newly passed private school law that will be providing financial assistance to Iowa families seeking to enroll their children in private schools.
Frakes believes Notre Dame has a wide range of amenities and activities for families to consider when deciding if the school is right for them.
"We're ready for more students," she said. "We're well equipped. We've got classroom space. We have awesome facilities here at Notre Dame...There are so many opportunities for our students to participate in athletics, if that's something you're interested in."
Inflation is also another issue Frakes says she's slightly anxious about, knowing that unpredictable costs, attention to detail and the future planning of the school's finances will be among the top priorities in the years to come.
Fortunately for Frakes, she won't have to it alone, and her predecessor will be nearby, at least for another school year.
"I think (Maupin) is going to be a great, unofficial mentor," she said. "It is kind of nice to know that he will still be in the building if I have a question. We work very well together. I anticipate him being very helpful during the transition."
She says her family is currently looking for a home in the area, hope to move this summer, and are anxious to further integrate themselves in the Burlington community.
And beyond the laundry list of new responsibilities coming her way, Frakes says she is excited not only to take on her new job and the future.
"I'm just excited for (whatever comes next)," she said. "I feel like every time I do something (new), it's always bigger and better the next time. And so I'm excited to take on this next challenge."