Walker family receives support
1 of 2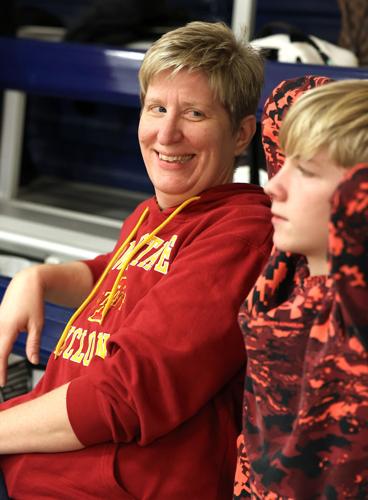 Maria Walker and her son, Jacob, 12, attend the basketball games between Notre Dame and Holy Trinity on Tuesday. People wore red to support Brad and Maria Walker's daughter, Emily, who is in the University of Iowa Stead Family Children's Hospital battling an illness.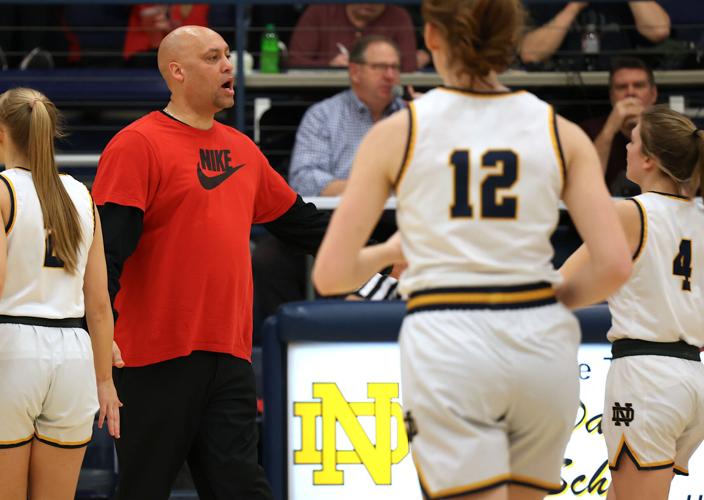 Notre Dame girls coach Corey Stephens wore red in support of Holy Trinity's Emily Walker, who needs a heart transplant.
Emily Walker came home from Holy Trinity Catholic Elementary School one day in early December with a case of the sniffles.
Her parents, Brad and Maria Walker, thought it was just a cold or maybe the beginning stages of the seasonal flu.
When Emily's older brother, Jacob, also came down with similar symptoms, Brad and Maria figured it was just a seasonal illness.
Two weeks later, Emily's condition worsened significantly. Brad and Maria found themselves at the University of Iowa Hospital and Clinics, where they got the news that shook them to their very core.
Their 10-year-old daughter had an enlarged heart and was in organ failure. She would need a heart transplant to live.
Emily Walker, a fourth-grader who has been at University of Iowa Stead Family Children's Hospital since Dec. 22, is still awaiting a heart transplant. Doctors performed surgery to implant a Left Ventricular Assist Device to pump blood to the rest of her body.
On Tuesday, Notre Dame High School had a benefit during the basketball games against Holy Trinity for the Walker family to help offset their growing medical expenses.
For the Walkers, it has been a long four weeks.
"She has an enlarged heart. It stopped pumping blood to the rest of her body. What we've done is she had surgery two weeks ago to install an LVAD while she waits for a heart transplant," said Maria Walker, a graduate of Mediapolis High School who is a teacher in the Holy Trinity school district. "In the beginning, everything was affected.
"Because her heart was enlarged and not pumping blood to the rest of her body, all of her organs were affected. She was covered in fluid and her organs couldn't function properly. She was in liver failure, kidney failure and heart failure."
Brad and Maria Walker, who also have a younger son, Nathan, who is in second grade, have had to split their time between Iowa City and Fort Madison and between Emily and their two sons.
"We've been splitting it up. Every couple days we switch. That way someone is always with Emily and someone is always with the boys," Maria said.
Brad, a 2001 Notre Dame graduate who works at Menke and Company, spent Monday and Tuesday in Iowa City with Emily.
On Wednesday morning, Maria drove to Iowa City and Brad came home to be with the boys.
The Walkers had to celebrate Christmas at the Children's Hospital.
They still have their Christmas tree up at home in Fort Madison.
"We still have presents under the tree for Emily," Maria said. "We're waiting for her to come home."
The whole ordeal has stretched both Brad and Maria thin, but they have been able to lean on friends and family, as well as the support of people from Notre Dame and Holy Trinity.
"I do recommend everybody being an organ donor whenever you are asked with your driver's license. It affects everyone, some stranger, somebody that you are not going to know," Maria Walker said. "It was very shocking. You never think it's going to be your kid getting sick. I never planned on it.
"She was always happy. She was always healthy. She was in all the sports. We never thought this was going to be an issue. It was something that was not able to be diagnosed until it was too late. Both Brad and I are very shocked. It's been a very wild journey trying to figure out what the next step is. We have a great team of doctors. Without them, we would be completely lost."
For now, the Walkers are waiting, hoping and praying.
"Once we are on the list we have to wait. It could be the next day, it could be next week, it could be next month," Maria Walker said. "Hopefully, next week she gets to come home. The boys are ready to be home. Emily is ready to be home. We're all ready to be together again as a family."