Meet ND-WB sophomore Kaiden Dietzenbach, The Hawk Eye's Athlete of the Week
Feb 22, 2023

Updated

Feb 22, 2023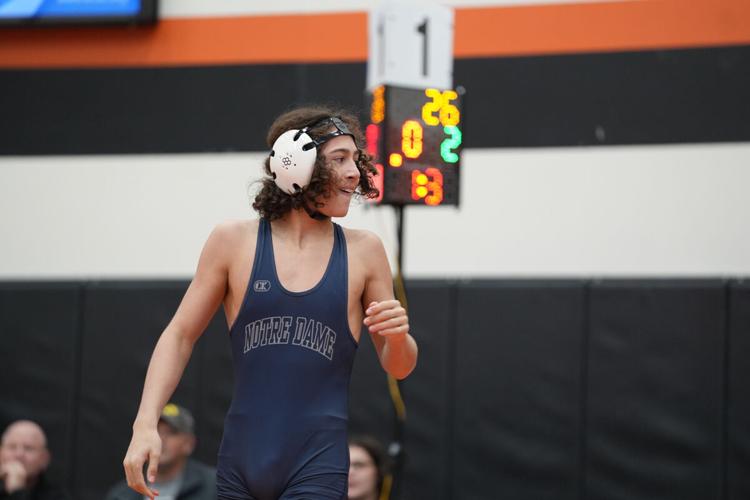 Notre Dame-West Burlington sophomore Kaiden Dietzenbach went 48-2 and placed third at 126 pounds in Class 2A.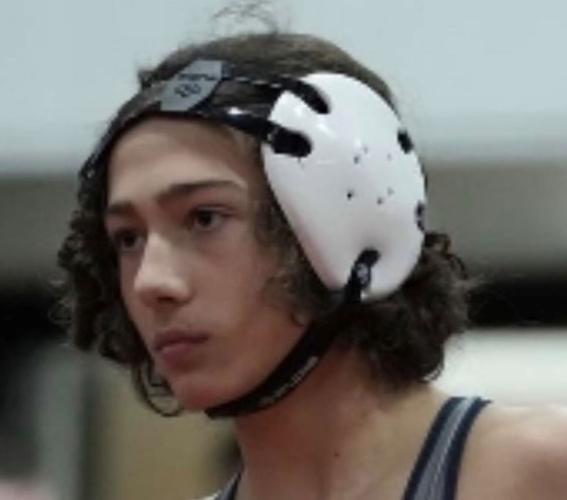 Kaiden Dietzenbach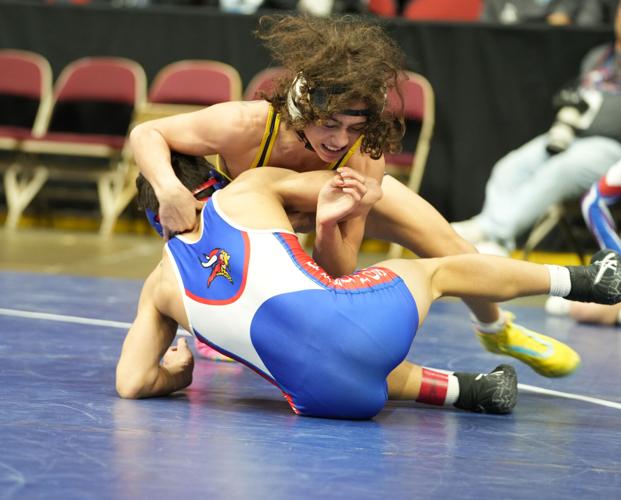 Kaiden Dietzenbach marches to the tune of his own drummer.
The Notre Dame High School sophomore wears his hair long, leaps high in the air in a warmup frog jump before every match and sometimes slaps himself silly before hitting the mat for the Notre Dame-West Burlington wrestling team.
And then there is that smile. No matter the situation on the mat, Dietzenbach always has a smile on his face.
That's because Dietzenbach is having fun.
Dietzenbach has become a key member of the Nikes' team the last two years since transferring from Mount Pleasant.
Dietzenbach placed fourth in Class 2A as a freshman last season, going 16-4 after sitting out the required 90 days.
He racked up bonus points in helping the Nikes win the Class 2A state team championship.
This year, Dietzenbach ascended to the No. 1 spot in the Class 2A rankings at 126 pounds.
He knocked off then No. 1 and eventual state champion Derrick Bass of Davenport Assumption at districts.
Dietzenbach lost his first match at the state tournament, a 4-2 decision to Mason Avila of Decorah, on a last-second reversal.
Dietzenbach came back to win his next six matches to finish third. That string included a 7-4 win over Avila, on his way to a 48-2 record.
The Hawk Eye recently caught up with Dietzenbach, The Hawk Eye's High School Athlete of the Week, to learn a little more about him.
What is your favorite sport besides wrestling?
The only sport I do for a school is wrestling, but in the summer I like to golf a lot in my free time.
What is it that you like about wrestling?
No better feeling than getting your hand raised.
What is your best memory in wrestling?
My best memory in wrestling is going out to North Carolina to wrestle with DC Elite at Super 32.
How do you and your teammates make practice fun?
We all like to play spikeball.
Do you have any pregame or game day routines and what are they?
I always have to listen to The Climb by Miley Cyrus.
Who is the funniest person on the team and why?
Me, of course, but also my drill partner, CJ Davis, because we are always cracking good jokes during practice.
Who is your biggest role model and why?
My biggest role model is CJ Walrath because he is the hardest worker I know and he pushes me in the practice room.
What is your favorite subject in school and why?
My favorite subject is definitely gym, but I also enjoy history.
What is your favorite meal?
I love a good steak and mashed potatoes.
What is your favorite TV show?
My favorite show is Outerbanks because I want to be a surfer boy.
If you won the lottery, what would your first purchase be and why?
My first purchase would be more Jordan's to add to my collection.
What do you enjoy doing in your free time and why?
In my free time, I like playing PlayStation with the team.
What is your favorite motivational slogan or quote?
It's just business it's what I say when I'm wrestling it's nothing personal just what has to happen.
What are your future plans for college and career?
I would love to go wrestle in college and then go into athletic training.
What is something about yourself that would surprise people?
It would surprise people that I love ice cream.