Nikes rebound, move into fourth place in Class 2A team race
Feb 16, 2023

Updated

13 hrs ago
1 of 3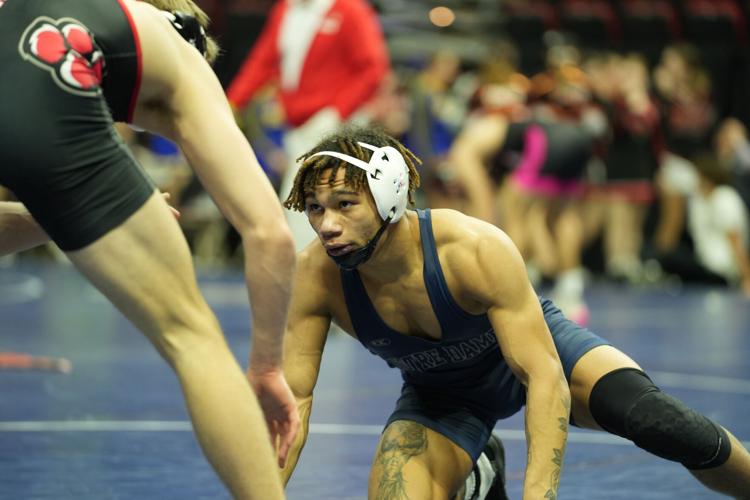 Notre Dame-West Burlington senior Isaiah Fenton scored a 9-5 win over Aiden Flora of ADM in a Class 2A 152-pound quarterfinal match.
Notre Dame-West Burlington senior CJ Walrath pinned Jace Mulder of Boyden-Hull/Rock Valley in 3:01 in a Class 2A 182-pound quarterfinal match Thursday at Wells Fargo Arena in Des Moines.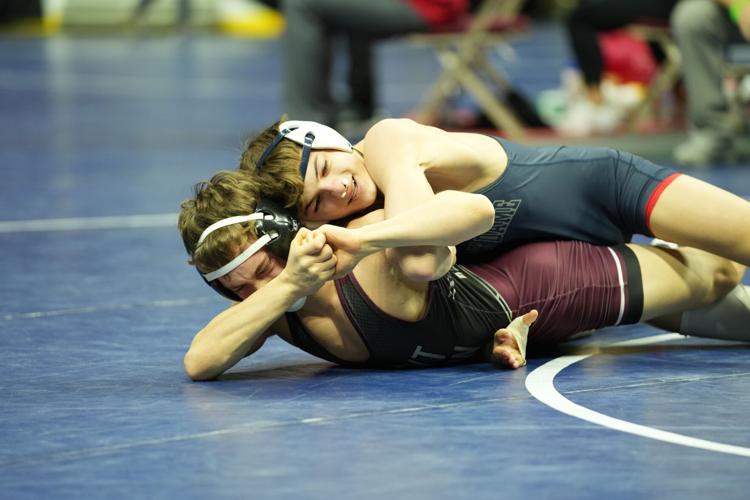 DES MOINES — Notre Dame-West Burlington had a forgettable day to open defense of their Class 2A state team championship on Wednesday.
On Thursday at Wells Fargo Arena, the Nikes had a day they won't soon forget.
Notre Dame-West Burlington went a combined 8-1, advanced three wrestlers into the semifinals and vaulted into fourth place in the Class 2A team race, just a half-point behind Sargent Bluff-Luton for a team trophy.
As much as the Nikes struggled on the opening day of the state tournament, they looked sharp on Thursday.
"The team is wrestling good. We were a little too confident or just didn't prepare how we needed to. We're bouncing back and wrestling good," ND-WB senior CJ Walrath said.
Moving into the semifinal on Friday after noon are Walrath at 182 pounds, Isaiah Fenton at 152 and Carter West at 106. Walrath is the defending state champion at 182, while West was a runner-up at 106 a year ago.
Joining the ND-WB trio in the semifinals is Columbus/Winfield-Mount Union junior Russell Coil at 285 and Keokuk senior Tate O'Shea at 138.
West had to battle not only Mount Vernon's Klayton Perreault in his quarterfinal match, but a bloody nose which hampered his breathing.
West was able to get a takedown in the first period and made it stand for a 2-0 win.
West will face Emmitt Newton of Davis County in the semifinals. West won a hard-fought battle over Newton in the finals at districts last weekend.
"I knew he was going to be coming right away and I knew I had to keep moving my feet. I was a little slow since I had double nose plugs, which made it harder to breathe. I thought I was a little slower than I should have been," West said.
Fenton finished a disappointing seventh last year at state. On Thursday, he made sure he not only would be on the podium again, but wrestling in the semifinals on Friday.
Fenton dominated the match, scoring five points in the second period on his way to a 9-5 win over Aiden Flora of ADM. But a late takedown got under Fenton's skin and gave him something to work on before his semifinal match against Lucas Kral of Garner-Hayfield/Ventura.
"I don't think I should have given up a takedown there at the end, but it doesn't matter. A win is a win at the end of the day," Fenton said. "Even last year I had what it takes to be in the finals, but I didn't give enough to the sport to get to where I needed to be. That kid was more tired that me, but I gave him too much credit. I need to keep moving and keep active and there would have been no points scored."
Walrath improved to 57-0 on the season, scoring five takedowns before pinning Jace Mulder of Boyden-Hull/Rock Valley in 3:01.
Walrath will take on Jackson Boese (37-6) of Van Meter in the semifinals.
"Just go out there and try to be as dominant as I can and not give them an inch," Walrath said. "Even last year, this quarterfinal match is always the one I'm most nervous about. Obviously the main goal is to be a state champ, but it's easier to go in there confident the next match knowing for sure you are going to be on that podium."
CJ Davis (120) and Kaiden Dietzenbach (126) kept their medal hopes alive with a pair of wins, while Kael Cook saw his season end after going 1-1 at 113.
Coil, seeded 18th at 285, finds himself in the semifinals after an impressive 9-2 win over Trent Cakerice of Aplington-Parkersburg/Grundy Center.
Coil got out of an early predicament to win and set up a semifinal match against Wil Textor of Dike-New Hartford.
"It was kind of crazy, honestly. I thought he was going to put me to my back, but we scrambled and I got out of it and ended up getting the two. It was an important part of that match because I knew if I could take him down I could ride him. He's 245 pounds and I'm 270. I feel like I've got a pretty good weight advantage and I could ride him," Coil said