Meet ND-WB senior wrestler Isaiah Fenton, The Hawk Eye's High School Athlete of the Week
1 of 2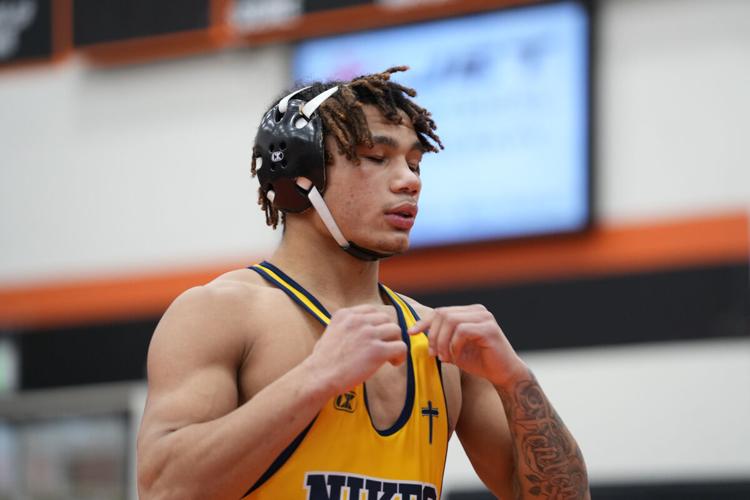 Notre Dame-West Burlington's Isaiah Fenton is ranked No. 1 at 152 pounds in Class 2A.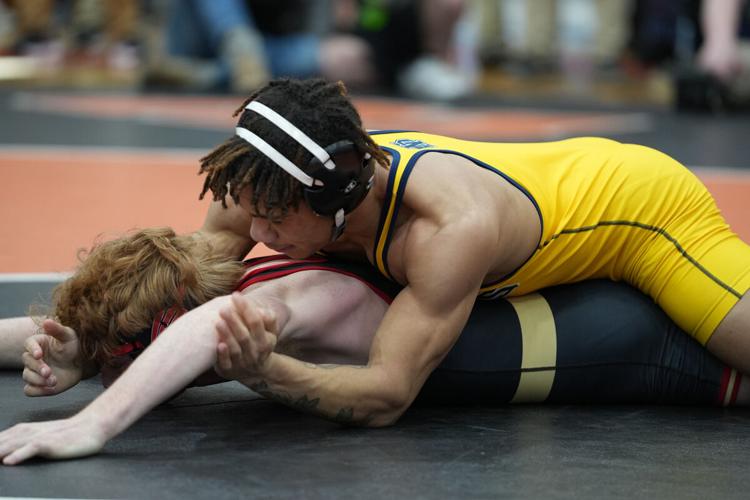 Notre Dame-West Burlington senior Isaiah Fenton is 35-0 at 152 pounds in Class 2A.
When it comes to high school wrestling, few are as tough, gritty, explosive, quick and well-rounded as Isaiah Fenton.
Fenton, a senior on the Notre Dame-West Burlington high school wrestling team, is making his third state tournament appearance this week at Wells Fargo Arena in Des Moines.
Fenton is ranked No. 1 at 152 pounds in Class 2A with a 35-0 record.
He is 121-13 in three seasons with the Nikes, helping them win the Class 2A state team championship last season.
Fenton started his high school career at Howell, New Jersey, where he was a state qualifier at 132 with a 17-12 record. He lost in the first round that season to the eventual fourth-place finisher.
Fenton moved back to West Burlington his sophomore season, going 37-5 at 138. He finished third at a Class 3A district tournament at Bettendorf, just missing a spot at state.
Last season, Fenton cruised to a 49-8 record, but came up short in his bid to win a coveted state title. Fenton placed seventh at 152.
This season Fenton, a University of Sioux Falls wrestling recruit, has his mind set on some unfinished business this week.
The Hawk Eye recently caught up with Fenton, The High School Athlete of the Week, to learn a little more about him.
What is your favorite sport besides wrestling?
Most definitely football. Only defense though.
What is it that you like about wrestling?
My hard work is shown on the mat, and you have control of who the winner is.
What is your best memory in wrestling?
I make new ones every day, but winning state as team is somewhere in the top 3.
How do you and your teammates make practice fun?
Practice isn't supposed to be fun, but there are some days we play some music. Toe tag or running snakes is probably the best part. We do enjoy life when we get the chance.
Do you have any pregame or game day routines?
Yes, I have a good amount. Also get eight hours of sleep. Hydrated, get proper protein in, vegetables, some type of fruit, have list of stretches ready, honey, proper warm up, and right before the match no distractions.
Who is the funniest person on the team and why?
Definitely CJ (Walrath), Blake (Wilson) or Kaiden (Dietzenbach). They always put a smile on my face, no matter the situation. Never a dull moment with those guys.
Who is your biggest role model and why?
Recently it's been CJ Walrath. He has been a huge help not only with wrestling but with my day to day mindset and work ethic. Other than that Jordan Burroughs. I admire the adversity he went through to get where he is.
What is your favorite subject in school?
I would have to say math. It's easier for me to remember equations, and do it in my head than to read a book. Numbers also can't lie to you.
What is your favorite meal?
In season: 8 ounces of chicken with 3 spoons full of rice, spinach, pepper, and a drop off barbecue sauce.
Out of season: Lasagna, chicken, corn bread, greens, with cookies and cream ice cream and a chocolate milk.
What is your favorite TV show?
I mostly watch wrestling or Family Guy.
If you won the lottery, what would your first purchase be?
Any college debt if I were to have any or a trip to island. Get a nice break and a few days in the sun.
What do you enjoy doing in your free time?
Working out, hanging with wrestlers, eating, and mini golf.
What is your favorite motivational slogan or quote?
"Life isn't only about your wins, but how you come back from a loss is what defines you"
What are your future plans for college and career?
Still in the works on that. I plan on heading into the nursing field and anesthesiology later on.
What is something about yourself that would surprise people?
More often than not I'm a pretty quiet perso